What do modern copy machines have fulfilled the same basic needs for many years? They make copies, scan documents, serve as network printers, and provide features such as automatic stapling, two-sided printing etc. There have been some great features that have recently been incorporated into the newest generation of copy machines. Take a peek at the following list of the 5 newest copy machine features that may benefit your office.
Mobile Printing from phones and tablets
Many of the current generation small business copy machines have the ability to accept print jobs from mobile devices. You can download a free application that will allow you to print photos, documents, and emails directly from your smartphone or tablet. This can be a huge benefit for companies with a lot of visitors and guests.
Built-in USB Port
Most of the newer generation copy machines have a built-in USB port. This feature is very helpful because it allows users to insert a USB thumb drive directly into the machine allowing them to print documents stored on the thumb drive or scan documents onto the drive.
Dual Scanning
Many office copy machines come with an option to add a Dual Scanning Document Feeder that scans both sides of a double-sided original in a single pass. Many of the older style copy machines run double-sided originals through the feeder and then use an inverter to flip the original over and run it back through the document feeder a second time to scan the other side of the original document. The dual scan, single pass technology not only doubles the speed of scanning 2 sided documents, but it also is much more reliable due to eliminating the need to flip over and re-feed originals.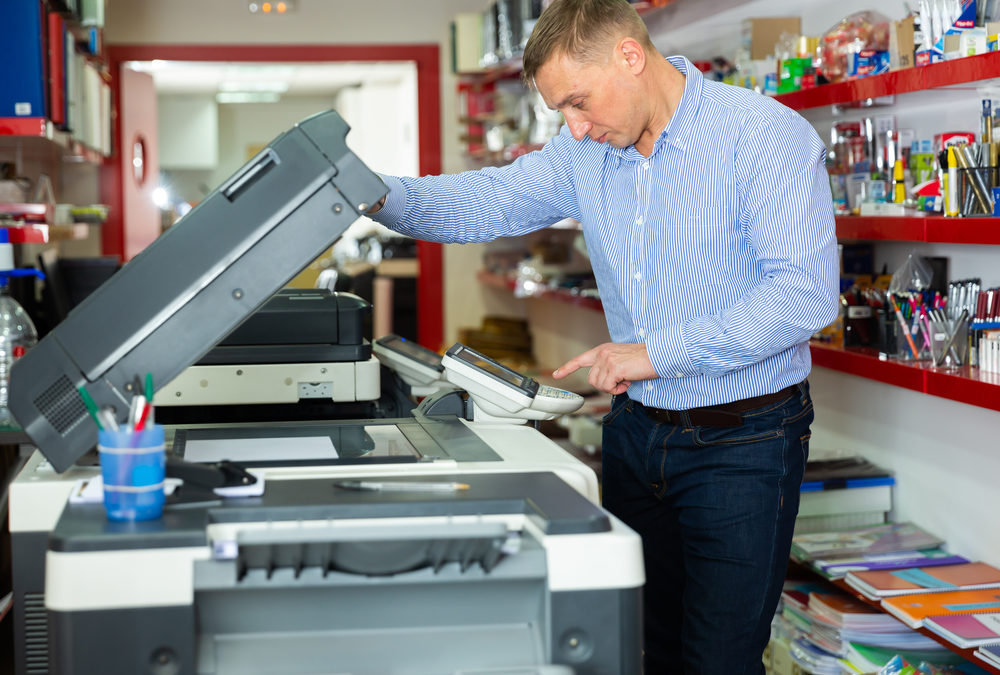 User Recognition
The copy machines of today have come so far in the way of technology. Many of the machines being manufactured today have automatic user recognition which allows the machine to be kept in energy save mode and automatically power up as a user approaches the machine. Other sources of user recognition include biometric scanners that allow users to log in to use the machine with a fingerprint scanner. This feature allows companies to restrict access to unauthorized users and eliminates the frustration of forgotten and pilfered passwords.
Password-protected and encrypted scanning
Copy machines are being used more and more as document scanners. In many cases, the documents that are being scanned are of a sensitive nature. A growing number of newer copy machines offer the ability to password protect and or encrypt documents as they are being scanned.
What is the advantage of a copier?
A photocopier machine provides a quick and easy way of producing both single and multiple copies of documents.
Photocopiers are very easy to use and can run without the help of any technical expertise. All you have to do to operate the machine is to turn it on and press a button. The device will produce your asked quantities of copies automatically.
You can copy documents either in a bigger size or smaller size than the original document. By installing this machine in your house or even in your business, you can copy documents whenever you want. For when you are working late at night and there aren't retail stores open, you can avail the copying facility sitting at home instead of waiting till the morning for the same.
They are Less Expensive and Offers Quick Services
The major perk of using a photocopier is that it can produce duplicate documents almost instantly and that too also cheaply. You can reproduce a document easily and for as many as you wish.
The photocopier machine can duplicate paper quicker than you imagined.
They can produce about 100 pages in a minute and despite this blazing speed, you can buy them at a cheaper price.
They Offer Maximum Flexibility
Besides photocopying, several photocopiers can also take the role of both a laser printer and a scanner as well. Thanks to the dual features, the image quality increases by sevenfold. Since the photocopiers come designed with all the brilliant features, they can save you a lot of space in our office.
They Can Increase the Productivity of Your Business
Incorporating a photocopier has its own set of advantages for your business. You can make it cater to all your copying-related tasks and needs. You wouldn't have to walk to any photocopy shop when you have the machine installed in the office. Hence, you can get all the official papers works done seamlessly, without facing any delays. Hence, it not only boosts the productivity of your business but also the efficiency of your employees.
If you plan to get copiers for your office in Riverside, you can buy or lease copiers in Riverside. We can give you the option to get the copier that you want.  You can contact our local copier leasing services department in your location.
If your Location is around Riverside, you may call us at (909) 378-3070, and our personnel for copier leasing in Riverside will assist you.   If you are also looking for copier repair services in Riverside, you may contact our copier repair personnel at the same number.